Old Town to the Sandia Mountains


Old Town Plaza - Museum Complex - Tiguex Park - Mountain Road - Martineztown - Paseo del Noreste Trail - UNM - Constitution Blvd Bike Route - Winrock Center - Tramway Trail


This route features two of Albuquerque's most prominent features. One is natural and the other is man made. The route is almost entirely bike lane or street riding and the riding conditions are generally very good. The route runs mostly on the Constitution ave bike lane through residential areas so there are fewer sight to see. The sights are clustered mostly around Old Town and the Sandia Mountains themselves.

This is also a more strenuous route than the other two because it is mostly uphill. It is a slow, gradual climb but there are a few steep hills along the way. The climb is nearly 900 vertical feet from the low point of the valley near Old Town to the foothills of the Sandia Mountains. I checked a U.S Geological Survey map and Old Town is about 4950 feet and the end point on Tramway blvd is about 5820 feet above sea level.

Overall, this is the best east to west route across the city. The Constitution blvd route is the straightest route but there are a few alternate routes just east of Winrock Center to Tramway blvd. These alternates can be better routes depending upon where you want to end up on Tramway blvd. The Los Altos/I-40 route takes you closer to Tijeras canyon if that is your ultimate goal. It can save you some miles off the Constitution route. The Paseo de las Montanas recreational trail is better if you will be heading north on Tramway blvd.


Starting the route

We will begin the route at the Old Town plaza near the intersection of Central ave and Rio Grande blvd. You can also reach Old Town from the Bosque trail by exiting at Mountain road just north of the Bio Park. Or you can reach Old Town via the Rio Grande blvd bike lane but it only runs from Montano road to Central avenue.


We begin at the place where Albuquerque was founded 299 years ago. Albuquerque will turn 300 years old next April. Old Town or Plaza Vieja is the historic district of the city. It is actually about a mile and a half from modern downtown Albuquerque. When the railroad terminal was built in the 1880's Old Town was bypassed and an new urban center grew up where downtown is today. As a result Old Town seems to have been spared the urban squeeze that plagues many historic district in American cities.



Old town alley
Old Town is actually a small area of a few square blocks with adobe buildings and crooked streets. Today it is mostly art galleries, restaurants and souvenir shops. San Felipe de Neri church on the north side is the centerpiece of Old Town. The current church does not actually date back to the founding of Albuquerque in 1706. It was built some time later. It seems to be a favorite photo opportunity with the tourists with its brown and white gingerbread exterior and floral gardens.
In the center of the plaza is a bandstand and a few cannons. There are some historic plaques on the bandstand that tell about the Confederate occupation of Albuquerque during the Civil War.

Some of the buildings along the plaza date from the 1700's and 1800's. You can find plaques and historical markers on the walls of some of them. They are mostly old houses that have been converted into restaurants and shops.



Old town gate

There is a plaque just off Rio Grande Blvd accessible through the Don Luis shopping area near the Post Office. It tells a little about the history of Albuquerque including the missing "R". Albuquerque was originally spelled "Alburquerque with an extra "R" after the first "U". It disappeared sometime in the last three centuries. So, Albuquerque used to be even more difficult to spell.



Old town alley and capilla
Let's use the plaza as our actual starting point. You can exit Old Town in several ways. San Felipe street north will take you to Mountain road which is the next road on this route. I like to take San Felipe south to Old Town road to the museums and Tiguex park. You can also sneak through a few alleys off San Felipe street if you are careful of the pedestrians. One of these alleys takes you past a small chapel or capilla into the back entrance to the Albuquerque Museum of Art and History. Keep in mind that many of the streets in Old Town are one-way streets.
The museum complex just east of Old Town consists of the Albuquerque Museum of Art and History, the New Mexico Natural History Museum, the National Atomic Museum and the Explora Museum. They are all next to Tiguex park, which is currently under renovation.
The Albuquerque Museum of Art and History has just been expanded and renovated. It now has an extensive sculpture garden around the building. This summer's feature exhibit is El Alma de Espana, and exhibit of Spanish artists such as Velazquez, Goya and Dali. This is part of the Tricentennial celebration so if you are in town this summer you don't want to miss this.



Albuquerque Art museum and sculpture garden
The National Atomic Museum is across Mountain Road from the Art and History Museum. I believe this is just a temporary location until the new facility opens next year. The museum was located on Kirtland Air Force base but it had to be moved after the September 11, 2001 attacks. The museum website does not say where the new location will be but it won't be in the Old Town area. There have been some complaints about the large ICBM missile being inappropriate for a historical area.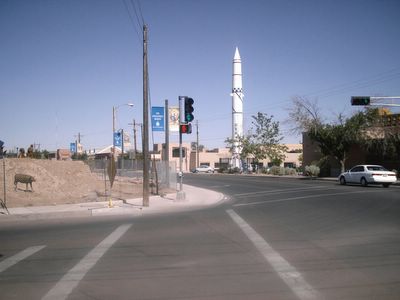 ICBM- National Atomic Museum
The Natural History Museum is actually run by the state of New Mexico. The exhibits are mostly about dinosaurs and fossils. It also has a large format DynaTheater and the Lodestar Astronomical Center.

National History Museum on Mountain road
And finally the Explora is a science museum for kids featuring interactive hands-on exhibits.



Explora Museum
After the museum district, the route travels eastward along Mountain road. Although Mountain road is a two lane road it is generally safe for bicycling. There are frequent stop lights every block or two and the speed of traffic is usually slow. It is a designated bike route.
If you didn't stop for something to eat in Old Town, you can stop by the Golden Crown Panaderia. This is a established family owned bakery and coffee bar on Mountain road near 11th street. They are famous for their loaves of green chile bread as well as bolillos (hard rolls), Mexican pastries and empanadas (fruit-filled turnovers). There is an overpowering smell of yeast, cinnamon, butter and sugar when you walk in the door. These days I stop in for iced coffee and biscochitos (anise-cinnamon cookies) before I start my ride in earnest. Golden Crown is less than a mile east of Old Town. There is a small, shaded patio where you can sit.



Golden Crown Panaderia
The neighborhood along Mountain road east of Old Town seems to be in constant transition. It is a mixture of art galleries, cafes and old crumbling adobe houses. Mountain road was a major road in Albuquerque many decades ago and there are still some old building leftover from this period. Many of them are abandoned and in disrepair like the old gas station on 12th street. Every once in a while someone fixes up one of the houses. Maybe this will become the next trendy neighborhood in the city.

Adobe building renovation in progress
Mountain road passes by a brief industrial area on the northern edge of downtown. There are some railroad tracks before you reach Broadway. So remember the rule about crossing railroad tracks on your bike. Cross the tracks at a right angle to avoid getting your front tire caught in the track. You can easily get thrown off your bicycle if you don't.

The route makes a left turn at Broadway and then a right on Odelia, which then becomes Indian School road. However, Broadway is not very bicycle friendly. A better way is to stay on Mountain road and cut through Martineztown to Odelia. Make a left turn on Edith blvd just after the New Mexico Department of Labor. Edith blvd is actually a designated bike lane and doesn't have much traffic.
Martineztown is another of Albuquerque's historic neighborhoods. It is quaint and much quieter than Old Town. I believe it was once a separate town but was eventually swallowed up by the growing city of Albuquerque decades ago. Even today there are some new buildings like the Embassy Suites and Tricore Labs on the hill that are encroaching on the neighborhood.

The ride through Martineztown is only about a half mile then the route makes a right on Odelia. There is quite a steep hill as it goes past Albuquerque High School to the I-25 overpass. It flattens out for a half mile then it climbs again after University blvd. Odelia becomes Indian School road at this point.
The route meets up with the Paseo del Noreste trail covered in the Paseo del Norte -Rio Bravo alternate route post. Take the trail towards UNM and make a left on Tucker avenue. There is a steep hill here near the UNM Observatory but this is the last steep hill on the route for a while. Tucker avenue reaches an end at Stanford drive after a half mile. The route makes a left on Stanford along the UNM North golf course to Constitution avenue.



UNM Observatory
The rest of the route is on the bike lane on Constitution avenue until the final destination on Tramway blvd at the foothills of the Sandia mountains. The distance from Stanford/Constitution to Tramway blvd is about 7.2 miles and is a long, slow uphill climb. There are relatively few sights along the way. It is generally a very safe route, traveling mostly through residential areas. You could also take Indian School road which runs parallel to Constitution but it is not a continuous as Constitution. Indian School breaks up near the Coronado and Winrock mall areas.
The first major intersection is Carlisle blvd. There are several places here to stop if you need to refill your water bottle. There are some rolling hills on this section. After Carlisle the next intersection is San Mateo blvd, which is a busy road so be careful as you cross. San Pedro is the next crossing but it is not as busy as San Mateo. After San Pedro is Louisiana blvd and Jerry Cline park. The route begins to break up in this area as it crosses over Interstate 40 to Winrock Center.



Jerry Cline park
By this time you may want to take a break since you have been climbing since Martineztown. Jerry Cline park at the intersection of Louisiana and Constitution is a good place to stop and rest. The ride from here gets more complicated for a while. You will be leaving the Constitution bike route for a mile or so. You can catch a trail at the northeast corner of Louisiana and Constitution where it then runs behind the Interstate 40 sound wall. It then crosses I-40 over a pedestrian bridge after a steep climb up a ramp
On the other side of 1-40 is Winrock center and the Uptown area. Uptown is a business, entertainment and retail area, with office buildings, hotels and two shopping malls. Before Cottonwood mall was built on the west side, Albuquerque had only two shopping malls and they were built right next to each other. I still can't figure out why. But, we are not here to do any shopping. We are headed to the Sandia mountains
After you cross over I-40 on the pedestrian bridge, stay on the trail as it sneaks out of Winrock mall's back parking lot entrance. The trail ends at the entrance on Pennsylvania street. I did mention earlier that there are several alternate routes to Tramway blvd. This is one of the convergence points of the route. But we will stay with the Constitution route for now.
To continue on the Constitution bike route, make a right onto Pennsylvania street and then meet up with Constitution ave about a quarter of a mile. You continue on Constitution towards the mountains. This section of Constitution has many medical facilities including Presbyterian Kaseman hospital.



Constitution Avenue Bike Lane

After you cross Wyoming blvd, the neighborhood becomes residential again and traffic does thin out a bit. The next two streets are Eubank and Juan Tabo blvds. After Juan Tabo the climb get somewhat steeper but we are almost near the end. Constitution ave actually does not intersect with Tramway. It dead ends into Indian School road about 100 yards before Tramway and there is one last steep hill and then we are done.
The route ends at Tramway blvd which runs along the foothills of the Sandia mountains. The Sandia Mountains are a 10,400 foot high mountain range that neatly define the eastern edge of the city. There is almost no more development on this side of Albuquerque. The residential areas have pushed up against the foothills as far as they can go. Also, some of the foothills is designated as open space where development is not allowed.
Tramway blvd has a recreational trail of its own on the east side of the road. It also has a bike lane on both sides of the street and several bridges that cross Tramway blvd. It is the premier bike route of the east side of Albuquerque.
There is one thing I have noticed about this route with its dramatic elevation change. You seem to pass from one climate zone at the beginning of the trail to the end. There usually is about a 5 degree difference in temperature and there are different types of vegetation and animal life. Sometimes in winter, the east side of the city will get snow and the west side only gets rain.



Sandia Mountains at Tramway blvd

Where the route starts in the low valley, there are more hardwood trees. Whereas the end of the trail has more evergreens like pinon pine and juniper. The Tramway end of the trail seems to have more tall grasses and sage than the bosque end of the route. Also, I cannot recall seeing any prairie dogs in the low valley and they are abundant along Tramway blvd.
Some of this may be my imagination. I don't know much about plants and wildlife. However, this is an observation you can only make if you are traveling on a bicycle. You would not notice this if you were traveling by car or motorcycle. If you were to walk this route it would take so long that you would most likely forget about which types of vegetation you had seen earlier in the day.
The advantage of seeing the city by bicycle is apparent. A cyclist can travel from one side of the city in an afternoon and still have an intimate experience of how the city changes from one side to the other.
-Brian